I've known Dr Sue Black OBE for several years, in her various guises as women-in-tech evangelist, campaigner to save the British wartime communications centre, Bletchley Park, Twitter maven and hot-pink-haired dynamo.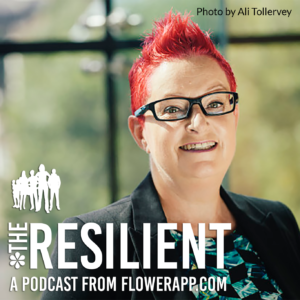 Sue has had a remarkable year. The technologist has published a book, played mother-of-the-bride, turned Grandma for the first time, was named one of the top 50 computer scientists in Europe, been honoured by the Queen of England and got engaged via an encrypted message using 70 year old code. And that was all in the first three months of 2016. It wasn't until she and I had a conversation that I discovered that her story was anything but a fairy tale.
Her professional accolades and personal triumphs come after a lifetime of escape and of survival. She can't quite pinpoint what's given her such strength, but we have a theory.
The Resilient is a podcast about powerful people, like you and me. It's an eavesdrop session on their toughest times, and what they've done since then. It's about life transitions, difficult decisions and unexpected twists and turns. Because life happens. It's brought to you by FlowerApp.com and is produced and presented by Dr Aleks Krotoski and Pillowfort Productions. It is mixed by Katie McMurran.